A writer and poet. 
Patty Beecham is a wife, and mother of two, and spends her time between living in Brisbane and Maleny.
Her latest book is a memoir on her Rockhampton childhood: Growing Up, Rocky.
SYNOPSIS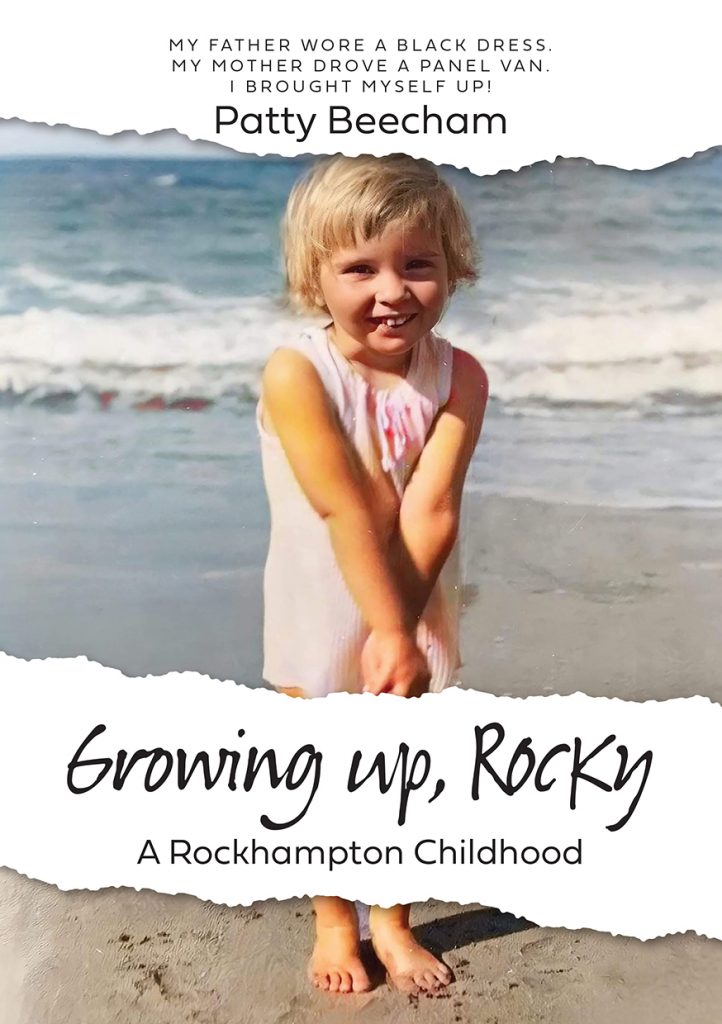 We follow the unusual family upbringing on an aboriginal mission as the family of five children follow the parents to Rockhampton when the father studies to become an Anglican priest at 42.
This is the true story of the youngest daughter of a Sydney couple living at Lockhart River Mission for 9 years, raising their children within an Aboriginal village of five tribes.
Conceived on Cape York, and finally returning to Rockhampton as a young child, a shocking series of family tragedies leaves her feeling abandoned at twelve.
A family tragedy with the shocking death of brother Chris, 2 days before a family wedding, sees the upheaval of family life.
Patty feels abandoned and has to educate and raise herself as well as learn to iron a cassock!
Patty brings herself up with her distracted parents, marries young and then flees a violent marriage, and dreams of a bigger life than what was offered in her sleepy country town. Life became a series of ground breaking adventures, and we follow her turbulent relationships and jobs, learning how to survive.
Share her adventures in this gentle, humorous and insightful memoir.
Her poetry has been published in the international magazine Prism, winning several awards including The Professor Bruce Dawe, AO, Patronal Prize. She has had articles published in the Courier Mail newspaper, ABC Brisbane and Crikey.com.au. Later this year her second poetry collection will be published:  These Days I live in Brissy. A collection of words and love letters to the ordinary. Published soon!
Patty has been a member of the Beerwah Writers Group for 7 years.  Patty was Australia's first Funeral Photographer, and the first Roving Reporter for ABC Radio in Australia. Patty is a writer and poet, broadcaster, thinker and ideas person, who loves to drive road trips and see the land and country, and has recently created her own travel business within Australia. Interests include cooking, wine, and driving the Bruce Highway.
"I love to find beauty in the ordinary, and mundane. We are all a week from our own funeral, so cherish every day.  Look for the Light." Buy it here!
"I love creating bespoke travel tours.  Come and see what's on offer on my two travel pages – Interstate Tours out of Qld – Have Lippy Will Travel or local Sunshine Coast Hinterland Tours."
Patty Beecham.
Call me on 0417 887316 to discuss your needs, or email me.
Share the joy!

This work by http://pattybeechamproductions.com/ is licensed under a Creative Commons Attribution-NonCommercial-NoDerivs 3.0 Unported License.