A Brisbane writer and poet. 
Patty Beecham is a wife, and mother of two, and grandmother of one, and spends her time between living in Brisbane and Maleny.
Her latest book is a memoir on her early Rockhampton childhood: Growing Up, Rocky.
She is currently writing the second half of her memoir: Growing up, Patty.
SYNOPSIS
We follow the unusual family upbringing on an aboriginal mission as the family of five children follow the parents to Rockhampton when the father studies to become an Anglican priest at 42.
This is the true story of the youngest daughter of a Sydney couple living at Lockhart River Mission for 9 years, raising their children within an Aboriginal village of five tribes.
Conceived on Cape York, and finally returning to Rockhampton as a young child, a shocking series of family tragedies leaves her feeling abandoned at twelve.
A family tragedy with the shocking death of brother Chris, 2 days before a family wedding, sees the upheaval of family life.
Patty feels abandoned and has to educate and raise herself as well as learn to iron a cassock!
Patty brings herself up with her distracted parents, marries young and then flees a violent marriage, and dreams of a bigger life than what was offered in her sleepy country town. Life became a series of ground breaking adventures, and we follow her turbulent relationships and jobs, learning how to survive.
Share her adventures in this gentle, humorous and insightful memoir.
SUMMARY
This is an important personal story of a turbulent political time in the early 1960's with life on Lockhart River Mission and the changing times within the community.  A gentle reminiscing told through the protagonist Patty as she recounts her upbringing, and the difficulties of a family learning to live under the one roof.
Patty's three older siblings attended boarding school returning for only 6 weeks each year.  Life on the Mission was also fragmented with the father out to sea for 6 weeks at a time on the pearling luggers. The first time Patty lived with her entire family was when she was four years old!
The story notes the changing society with television and the Pill, and how a family struggle emotionally when the younger brother, a talented self-taught artist, is tragically killed two days before a family wedding.
Patty's mother buys a corner shop at Keppel Sands, a small seaside community 40 kms from Rockhampton, and Patty has to learn to cope with school bullies in her first year of High School, and helping her father within the small, rowdy church community.
Rockhampton people still remember with great fondness Canon John Warby and Mrs Bunty Warby, as leading public figures in the small town.  The group of people on the Facebook group 'Rockhampton: Remember When', encouraged Patty to tell her own story, and without their gentle and persistent encouragement, this book would never have been written.
Canon Warby was a Queenslander of the Year 1987 and received an OAM for his work with the Indigenous, in later years.
 Audio now available from:
https://libro.fm/audiobooks/9798823439763-growing-up-rocky
https://www.barnesandnoble.com/w/growing-up-rocky-patty-beecham/1142961789/
https://www.scribd.com/audiobook/620742999/Growing-Up-Rocky
https://www.barnesandnoble.com/w/growing-up-rocky-patty-beecham/1142961789
https://www.kobo.com/au/en/audiobook/growing-up-rocky
https://play.google.com/store/audiobooks/
Amazon Audible and iTunes coming very soon, keep checking their sites.
Digital now available from Amazon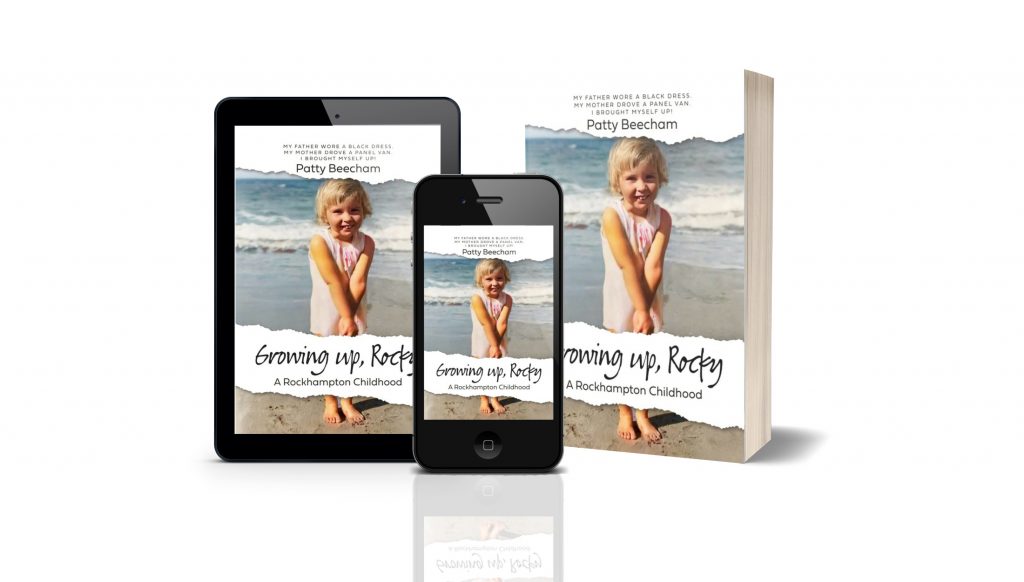 REVIEW BY ALAN WATTS OF 'GROWING UP, ROCKY' BY PATTY BEECHAM
If you grew up in Central Queensland in the 1960's and 1970"s, knew or knew of Father John Warby (Canon Warby), were involved in St Barnabas Church of England or other Anglican parishes around Rockhampton, are interested in reading warts and all life stories, or local history, then this book is a must read for you.
It is the early life story of Patty Beecham, who grew up as Pat Warby, youngest daughter of Canon John Warby and his wife Bunty.
To give you a background understanding of her early life, and set the scene for what is to come, Patty starts by sharing her family story beginning at Lockhart River mission in Cape York Peninsula, the first place she lived after her difficult birth in Cairns, North Queensland.
Her father, a returned soldier from the Second World War in New Guinea , after working on a pearling lugger which he owned, worked there as Mission Supervisor prior to becoming the Anglican Priest that Rockhampton people knew and loved so well.
The stories of family separation and life there give readers and insight into Patty's feelings about herself and her family as a young child. This, along with the following stories of growing up in Biloela and Rockhampton formed the foundation for her adult life.
Patty recounts both the good and bad things that happened to her throughout her formative years through to her early adulthood. She describes the times and events, both happy and sad, and, in a well written, easy to read manner.
The in-depth descriptive language used, adds to the story as you can place yourself in her shoes, even feeling the blisters, and live along with her as she recounts her story. It will jog your memory to recall your life at that time with reminders of your own childhood with the sights and smells and sounds familiar to you.
It will appeal to those types of readers who like to read a bit at a time and reflect on what they have read, with its short chapters each focussed on a particular event or aspect of her life growing up as the daughter of a priest, a P.K. or preacher's kid with all that brings and life in the rectory.
For those who get drawn into stories when reading books who can't put them down as they want to know what happens next, this book is also for you as you become drawn into what is happening to Patty and her family.
Her story is captivating, like paint strokes on a canvas or pieces of a jigsaw, each bit fitting with the rest to form the full picture of her life, Growing Up, Rocky.
It covers a full spectrum of life at that time with the three things you were never meant to talk about, sex, politics and religion, the things people read papers for, Births, Deaths, Engagements and Marriages and more. It includes the highs and lows on the roller coaster of life's feelings and emotions in times of sadness, happiness, tragedy, thrills and spills, and is a piece of history revealing the social issues and lifestyle in Rockhampton in those times.
It is all these things and more as we follow Patty's life as a young girl who felt like a square peg in a round hole, often feeling unwanted and unloved with feelings of inadequacy, self-doubt and how she coped with life through all of this to become the woman she is today.
It has all this wrapped into one story and it is all true. What more can I say other than I highly recommend this book to everyone.
Alan is a local Rockhampton Poet who was in Patty's class in Grade 8 at North Rockhampton High School and is another Preacher's Kid who can relate well to Patty's story.
AUTHOR BIOGRAPHY
I'm happily married, the mother of our two adult sons, and spend my retirement living between Brisbane and Maleny. I am already writing the next 40 years of my life as a follow-up Memoir, and I suggest you wear your seatbelt! I have always written and since retiring, have published my first poetry collection: The Poetry of Patty Beecham, The Light between Breath.'
My poetry has been published in the international magazine Prism, winning several awards including 'The Professor Bruce Dawe, AO, Patronal Prize'. I have had articles published in the Courier Mail newspaper, ABC Brisbane and Crikey.com.au.
A second collection of poetry: These Days I live in Brissy, was launched on the 30th of August at the Beerwah Library's inaugural Storytellers Festival. I also enjoy writing children's books, travel, and wine in that order. I was Australia's first Roving Reporter for ABC Breakfast Radio 6124QR, and the first Funeral Photographer in Australia.
"I love to find beauty in the ordinary, and mundane. We are all a week from our own funeral, so cherish every day.  Look for the Light." Buy it here!
Patty Beecham.
Call me on 0417 887316 to discuss your needs, or email me.