I have two new books coming out soon, and I am reprinting my poetry book. The memoir: Growing Up, Rocky, will be launched in Rockhampton, the first week in November 2022.
I'm pretty excited! Click this link and Please let me know if you wish to pre-order this book.
GROWING UP, ROCKY
We follow the unusual family upbringing on an aboriginal mission as the family of five children follow the parents to Rockhampton when the father studies to become an Anglican priest at 42.
This is the true story of the youngest daughter of a Sydney couple living at Lockhart River Mission for 9 years, raising their children within an Aboriginal village of five tribes.
Conceived on Cape York, and finally returning to Rockhampton as a young child, a shocking series of family tragedies leaves her feeling abandoned at twelve.
A family tragedy with the shocking death of brother Chris, 2 days before a family wedding, sees the upheaval of family life.
Patty feels abandoned and has to educate and raise herself as well as learn to iron a cassock!
Patty brings herself up with her distracted parents, marries young and then flees a violent marriage. Patty dreamed of a bigger life than what was offered in her sleepy country town. Life became a series of ground breaking adventures, and we follow her turbulent relationships and jobs, learning how to survive.
Share her adventures in this gentle, humorous and insightful memoir.
THESE DAYS I LIVE IN BRISSY
Later this year my second poetry collection will be published:  These Days I live in Brissy. A collection of words and love letters to the ordinary.
Published soon and launching at the StoryTellers Festival, Beerwah!
THE POETRY OF PATTY BEECHAM: The Light Between Breath
"Part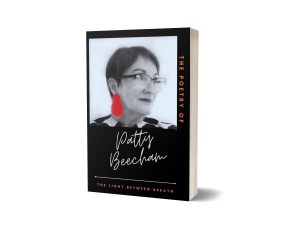 philosophical, part whimsical and playful, my poems are elegant thoughts and observations, a love letter to the ordinary, to nature, to travel, and domestic life."
This collection of poetry follows the writer over her 40-year journey, from life as a single girl living in Newcastle, through to her experiences living and working interstate: marriage, children, and grandchild, life and loss, as she travels around Australia, following the landscape of place, listening to country.
Patty Beecham – THE POETRY OF PATTY BEECHAM: The Light Between Breath