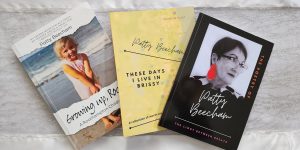 Over Covid I determined to publish 3 books, mainly because my desktop computer was full of folder after folder of my writings. I am a little prolific, and realised I had become a hoarder of words!  (well, that's what we writers do, we write. Constantly!  All day, every day, and most nights, if only in our head.) I knew I would publish a book of poetry, and I knew I would follow that up with a second book – if only to prove it wasn't a fluke. The third book I wasn't sure about.  It began as a collection of my writings, but gradually it became clear I should write my early memoir.  I've loved retracing my youth, and I have an unfortunate memory, in that I recall everything.  Every detail, every conversation, where they stood, what I wore, everything!  Funny though, other parts of my life are simply blanked out.  I have deliberately chosen to forget, such is the burden of memory. Next year I am writing the rest of my life – I didn't have time to write it all down.  I've had a BIG life! Stay tuned!
You can SEND ME AN EMAIL to Order.   I will need your contact details and postal mailing address. Thank you.
In Rockhampton copies available Nextra Card & Paper outside Big W, ReidandRoseEast and their other locations, The Yellow Door Bookshop Yeppoon and City Printing Works Rockhampton. In Maleny copies available at Rosetta Books and The Maleny Bookstore.
In Brisbane copies available at the Mary Ryan Milton Bookshop, Wildflowers and Reading Paddington,  Scrumptious Reads, Red Hill, The Gap Newsagency
Huge thanks to these book sellers for supporting me.
GROWING UP, ROCKY
We follow the unusual family upbringing on an aboriginal mission as the family of five children follow the parents to Rockhampton when the father studies to become an Anglican priest at 42. This is the true story of the youngest daughter of a Sydney couple living at Lockhart River Mission for 9 years, raising their children within an Aboriginal village of five tribes.
Conceived on Cape York, and finally returning to Rockhampton as a young child, a shocking series of family tragedies leaves her feeling abandoned at twelve. A family tragedy with the shocking death of brother Chris, 2 days before a family wedding, sees the upheaval of family life.
Patty feels abandoned and has to educate and raise herself as well as learn to iron a cassock!  Patty brings herself up with her distracted parents, marries young and then flees a violent marriage. Patty dreamed of a bigger life than what was offered in her sleepy country town. Life became a series of ground breaking adventures, and we follow her turbulent relationships and jobs, learning how to survive.
THESE DAYS I LIVE IN BRISSY
My second poetry collection:  These Days I live in Brissy. A collection of words and love letters to the ordinary.
"The pages you have perhaps glanced through in 'These Days I Love in Brissy' are very worthy of reading, not as a novel, but as an off the shelf book wherein you may read two or three poems a day and slowly reflect on their artistic merit, beauty and poetic language in modern themes.  Patty has published a wonderful first book of poetry and is internationally published in very modern anthologies. She has won prizes including "The Bruce Dawe Memorial" for Free Verse quite recently. I thoroughly recommend this book to you and all who would wish to come to terms with good poetry." ~ Ron Wiseman, poet and editor of  "Prism".
THE POETRY OF PATTY BEECHAM: The Light Between Breath
"Part philosophical, part whimsical and playful, my poems are elegant thoughts and observations, a love letter to the ordinary, to nature, to travel, and domestic life."
This collection of poetry follows the writer over her 40-year journey, from life as a single girl living in Newcastle, through to her experiences living and working interstate: marriage, children, and grandchild, life and loss, as she travels around Australia, following the landscape of place, listening to country.