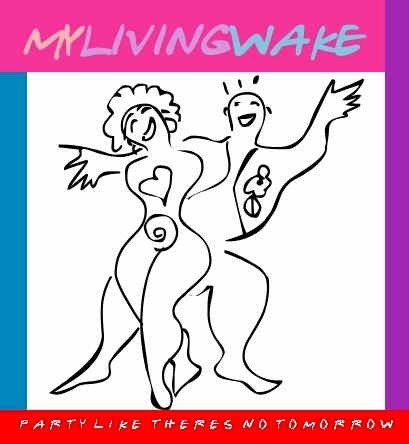 Party like there's no tommorrow!
Doesn't this seem a little morbid?
When is the best time to do this?
Am I able to upload my Will too?
Is this able to be arranged over the internet, I live interstate?
How did this idea come about?
Over the past couple of years I have lost a few friends to cancer and illness, and it occurs to me that as well as everyone simply coming to your funeral, you should be able to hear what your friends and Loved Ones really think of you…whilst you are still able! It is unfortunate, but cancer and illness is striking us younger and younger, and we are often left in a place of hospitals, specialists, drips, chemo, drugs and left with a feeling of helplessness, not in control of our own lives.
It's an opportunity to publicly (or privately) honour your Loved One.
My Living Wake © can help you on your own private journey, and give your family and friends a sense of shared grief and companionship, as well as much needed laughter, happiness and great memories.
Far from being ghoulish, My Living Wake© is a time to laugh and cry, remember and hold, cherish and love.
Where can I hold my own Wake?
The best answer, is wherever is comfortable for you.  It might be on the beach, a private room in a restaurant, in your own home, or anywhere you feel that's best for you.  It doesn't have to be large either, perhaps a beautiful dinner setting, a park bbq, a small movie theatre watching images of your life, followed by cocktails and chat.
Doesn't this seem a little morbid?
Not to me? On the contrary, it's a celebration, and let's face it, you are worth it.
Who is Patty Beecham anyway?
Patty Beecham is a wife, mother of two, community activist, broadcaster, writer, story teller, thinker, ideas person, communicator, and a do-it-now-girl, who loves to help facilitate people's life events.
Using my own life experience, I can help you in yours. My dad was an Anglican priest, so I grew up in a very loving, embracing household, where it's second nature to step forward and help people. It's just how I am, and I love it, what a privilege for me to be involved in such a journey with you.
I consider it an honour to be able to help and assist people in their time of grief or celebration, to keep their precious memories safe….on the other hand I can sort out and organise one heck of a party your guests including yourself, will talk about for months to come.
Books, movies, you name it and I will create it.
When is the best time to do this?
Anytime! We are all going to fall off this magnificent planet of ours eventually, so when you are ready to enjoy your achievements and friends, let me know!

Can I write my own eulogy?
Yes, yes, and yes! I can help you write what you want to say, what you NEED to say to your family, your friends and Loved Ones.
I can videotape your own words, written and spoken by you and arrange to have the DVD played at the funeral, or at your own wake.
I am aware other sites encourage you to be spiteful and to have the 'last word' – but this is not like that at all, in fact, quite the opposite. Who wants a nasty, spiteful message to leave a sour taste in people mouths? Not me. Your last words are the ones your Loved Ones will remember.
Your eulogy can be as long, or as short as you want. It's up to you, of course. If you want, I can also insert special photographs, and use your own music.
Your own eulogy can also be uploaded to Youtube, or a private viewing over the internet.
Am I able to upload my own will too?
Back to the Top
No, this is not the place for that. See your solicitor.
Is this able to be arranged over the internet I live interstate?
Absolutely, I have also created DVD's and events via webcam/phone/mobile/email and special websites, it's not a problem at all. On the other hand, it's a great excuse for me to come to you and help you through the process. Your eulogy and photos of your Living Wake can also be uploaded to the net.
Back to Top
What does it cost?
How long is a piece of string? Let's see what your needs are first, prices vary but are very reasonable.
I am discreet and experienced, and I love what I do.